The Frobisher Map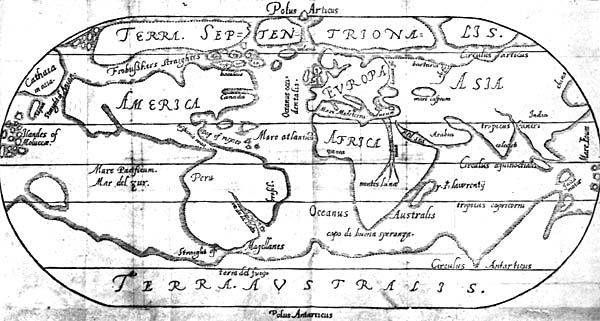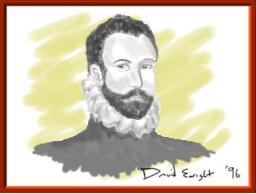 The adventurous Martin Frobisher was a sea-commander who served Elizabeth I with distinction, as well as a privateer. Besides resisting the Spanish Armada, he voyaged in search of the fabled Northwest Passage in the 1570s.
His map above depicts an Arctic basin with obvious and wide channels cutting deeply into the old world continent. We can hardly imagine what prompted the depiction of the Arctic coastline of this map, because we know today that the Arctic coastline has no such channels to even begin to fool cartographers in this way- that is, the Arctic coastline of the outer surface.
The Arctic coastline of the map reminds us of the description of Olaf Jansen who, in 1829, entered the hollow portion of the Earth with his father Jens in their family fishing sloop:
" About three-fourth of the inner surface of the earth is land and about one-fourth water. There are numerous rivers of tremendous size, some flowing in a northerly direction and others southerly. Some of these rivers are thirty miles in width, and it is out of these vast waterways, at the extreme northern and southern parts of the "inside" surface of the earth, in regions where low temperatures are experienced, that freshwater iceberg are formed. They are then pushed out to sea like huge tongues of ice, by the abnormal freshets of turbulent waters that, twice every year, sweep everything before them."
Could it be that the channels depicted in the map from Frobisher's time correspond to the immense waterways which Olaf described? Waterways which ring the opening, not on the outside, but within? Were they dipping in and outside of the opening, and getting confused in their cartography? We can only wonder.
Pages of Interest:
Polar Warming Curvature Anomalies Ring Around the Opening
Circular, Compacted as if Linear Mammoth
Chapter Four from Gardner Radarsat ZR-1 Greenland Vikings Antarctic Ozone
Icebergs from the Inner Earth Broken Auroral Ring
Aurora Australis Marks The Spot